Show Producer Info
Some form of Ranch Sorting is going on in every state.
Since 2007 Cinch RSNC has been dedicated to preserving the ranching lifestyle one sort at a time. The sport of ranch sorting is exploding across the country. With over 450 events held annually and a membership of over 31,000, Cinch RSNC prides itself in being the #1 equine family sport. We have a competitive environment for every member, from brand-new beginners to our professionals; with classes for the whole family! Our core principals are to provide a fun, fair, and competitive sport for all to enjoy. The sport of ranch sorting is evolving and we are always looking to bring new promoters into our association.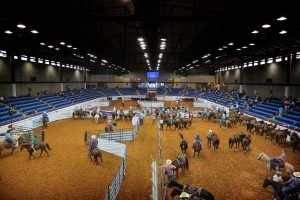 We just blew by 31,000 members for 2021. It will be a drop in the bucket when we come together and show advertising and marketing companies just how many of us believe and participate in Ranch Sorting. You can't do it alone and neither can we. We have to be a united force. It is time to strike while the iron is hot and right now I am asking you to team up with Cinch RSNC to make it happen. On behalf of Cinch RSNC we are pulling out all stops to make it easy for you to produce and co-sanction Cinch RSNC events.
If you ever thought Ranch Sorting could and should be the most popular event within the equine industry, then right now is your chance to prove yourself right! With your help and others like you, we can make this great sport explode.

- Dave Wolfe, President
No RSNC New Membership Fees!
No Fees Charged to the Producer!
Free Ranch Sorting software is available to all of our active Producers!
Contestants earn points & qualifications for large established events such as: CRSNC World Finals, All-Star Sorting Bowls, Challenge of the Champions, Regional Shows, State Finals, Truck Sorts & MORE!
Qualify for the World Finals in June! Members must compete in 5 sanctioned events to qualify for up to a 90% payback, which gets contestants to support your shows.
Through the Sort for the Saddle points race your contestants can qualify for World Champion saddles and prizes through 10th place in 6 rating categories.
If a state has a State Finals event, CRSNC will help furnish awards. For every state that sanctions at least 5 shows, CRSNC will contribute State Champion prizes in all 6 divisions. For every state that sanctions 10 or more shows, CRSNC will contribute prizes through 5th place in each of the 6 rating categories.
Discounts and free lettering on saddles for series awards. With the Cinch RSNC sponsorship Producers can get a $3,000.00 "Todd Jeys" saddle for $1,850.00, along with other great discounts from our sponsors!
 Nationally recognized & accepted rule-book for competitors to follow.
There is a division for everyone to have success! From grandma on a trail horse to the professional horseman.
Now is the time to sanction with the Cinch Ranch Sorting National Championships more than ever!  We are offering huge incentives, prizes, and monetary payouts that have ranch sorters chomping at the bit!  It is our goal to provide high-quality and professional ranch sorting events for those that have come to love our sport, and we look forward to you joining our mission.
---