Challenge of the Champions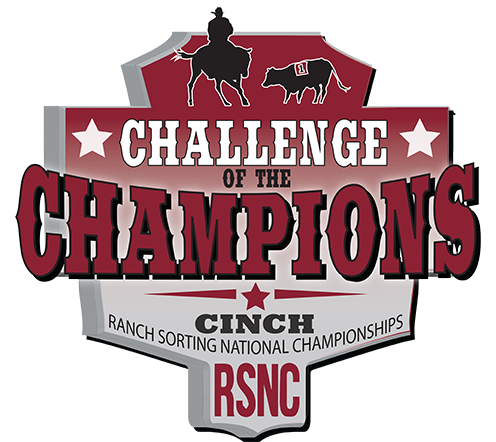 The Cinch Ranch Sorting National Championships Challenge of the Champions is a new way to honor contestants in each division for their outstanding success and contribution to Cinch RSNC's mission of preserving and enhancing the ranching lifestyle.  The top 5 money earners in their division in Cinch RSNC sanctioned events this season will get the opportunity to face off with the other division qualifiers in a "Challenge of the Champions" Round Robin.  The contender in each division with the most cows, in the least time at the conclusion of the Round Robin will be crowned the division "Champion of the Champions!."  Each of the top 5 qualifiers will be awarded a Cinch Shirt, Felt Back Tag, and a Challenge of the Champions Qualifier Award! The back tags will be numbered 1 thru 20, backtag number 1 being awarded to the overall highest money earner in the contest.
This season began after the 2021 World Finals and concludes June 1st, 2022 to allow for proper recognition and sizing of qualifiers.  Prizes or bonuses (Lottery Sort Highpoint bonus) do not count toward annual earnings, only money won in Cinch RSNC events via fast-go, incentive, or average payouts are included.  The top 10 season money earners will be listed here throughout the season, so you can see who the contenders may be. The Challenge of the Champions will have a thrilling contest between the most successful sorters of the year in the following divisions: Open (#7 – #9 rated riders), Amateur (#4 – #6 rated riders), Novice (#3 rated riders), and Rookie (#2 rated riders). We are incredibly proud of each and every member of the Cinch Ranch Sorting National Championships Challenge of the Champions. 
Good luck
to all!
The Challenge of the Champions Round Robins will take place at the World Finals event June 12-18th, 2022.  If any of the top five money earners will not be in attendance, the spot will be filled by the next eligible money earner in that division.
Open Class - Top 10 Money Earners
1st
Joel
Lesh
$21,578.00
2nd
Kason
Wolfe
$15,052.00
3rd
Logan
Wolfe
$13,465.00
4th
Remy
Greer
$13,296.00
5th
Jessie
Wolfe
$9,365.00
6th
Wesley
Appenzeller
$8,325.00
7th
James
Greer
$7,459.00
8th
Val
Tamme
$7,310.00
9th
Travis
Roberson
$7,165.00
10th
Colette
Lesh
$5,717.00
Amateur Class - Top 10 Money Earners
1st
Bob
McPherson
$24,583.00
2nd
Tanner
Sperle
$16,072.00
3rd
Chris
Mangold
$10,855.00
4th
Sheri
Stec
$10,707.00
5th
Liz
Baremore
$10,634.00
6th
Kevin
Reese
$10,068.00
7th
Pam
Haar
$9,942.00
8th
Doug
Pritchett
$9,758.00
9th
Haily
Mangold
$9,733.00
10th
Larry
Newport
$9,671.00
Novice Class - Top 10 Money Earners
1st
Patrick
Witham
$17,302.00
2nd
Gail
Grooms
$11,434.00
3rd
Kecia
Adams
$7,116.00
4th
Mary
Richards
$5,708.00
5th
Carley
Brause
$5,491.00
6th
Christy
Pritchett
$5,485.00
7th
Joe
Meals
$5,222.00
8th
Ernie
Hockens
$5,029.00
9th
Tricia
Lukassen
$4,786.00
10th
Jayson
Smith
$4,744.00
Rookie Class - Top 10 Money Earners
1st
Elaine
Moore
$3,287.00
2nd
Marilyn
Bowcutt
$3,183.00
3rd
Myrna
Sandefur
$3,006.00
4th
Jason
Kirkland
$2,803.00
5th
Scott
Finley
$2,078.00
6th
Nancy
Daniel
$1,918.00
7th
TJ
Bryson
$1,905.00
8th
Isabelle
Conwell
$1,875.00
9th
Lacie
Oglesby
$1,858.00
10th
Matthew
McCoy
$1,769.00